Your use of this website, EinsteinTraffic.com, and/or any other website that is owned in part or in full by Broadband Enterprises, Inc, is an acceptance of the terms of use stated herein. This agreement between you ("Customer, Client") and EinsteinTraffic.com ("Broadband Enterprises, Inc.") will remain in affect as long as you continue to use this website and any part thereof. We reserve the right to edit or modify these terms of use at any time, at will, without any obligation to contact you or any person(s) whom use this website. This terms of use exists to provide you with guidelines for EinsteinTraffic.com under which all users much abide to. Any user of this site found to violate these terms of use may be subject to being blacklisted from this website, and any other website that falls under the jurisdiction of Broadband Enterprises, Inc. In addition to such, we reserve the right to prosecute users of this site who cause monetary damage or infringe upon our own intellectual property. Any violations of Federal or State law will be reported to the appropriate authority while civil injunctions will be addressed by our own delegated attorney(s).


INTELLECTUAL PROPERTY


All logos, trademarks, and copyrights are property of their respective owners. Unless otherwise stated, you are strictly prohibited under copyright law from using any logos, trademarks, copyrights, graphics, videos, scripts, domain names, trade names, or any other media found on this website without the expressed permission from the owner. All property is deemed intellectual property and the unauthorized use of any such property will constitute a direct violation of this terms of use agreement and may be subject to severe penalties under state and federal law. No such portion of this site, either in whole or part, may be reproduced, copied, reverse engineered, cloned, spoofed, or promoted, electronic or otherwise, without the express written permission from EinsienTraffic.com.


SUMMARY OF FEE'S


Some of the products and services that we offer are provided on a recurring basis and are billed accordingly.Other products and services are billed a one time single payment only. The outline of our products and services shown below depicts which of our products and services are recurring and billed on a monthly basis and those are billed only one time for the services performed. Note that while this information is provided to you herein, this information is also illustrated on page 2 of our shopping cart checkout process for which we have provided a screen shot of below. In addition to such, upon final checkout, the fees that are recurrning and the fees that are billed as a one time charge are displayed to you in full. You may cancel any of the services or products for which you have signed up for at any time without further due or cause by contacting us directly by phone, email, or via our contact form on our contact us page or simply cancel the product or service directly from within your account manage area by logging into your account at http://www.einsteintraffic.com/Control-Panel/cplogin.cfm. Fees are billed monthly in accordance to the initial date of your purchase. In the event that your initial purchase took place on a calendar date, such as October 31st, which is not a valid calendar date for any or all of the months to follow, such as November 31st, then you will be billed on the last date of that give month.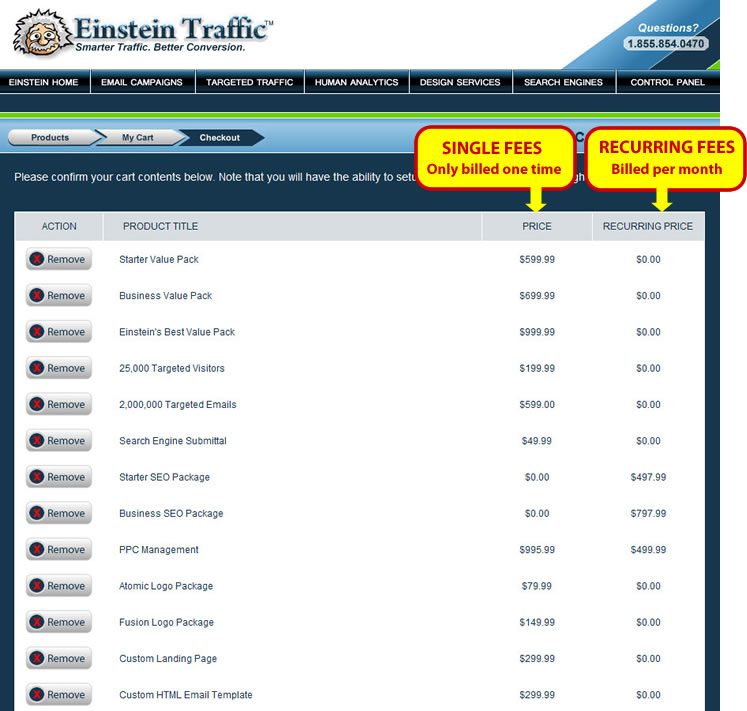 EXPIRATION OF PRODUCTS AND SERVICES


Your purchase of any products or services through EinsteinTraffic.com is contignent upon your understanding of our obligatory rights to fulfill or statisfy any outstanding debts under the terms of this aggreement but within reason of an acceptable expiration date of no more than one year from the the date of purchase of any given product or service. Any products or services that you have purchased through EinsteinTraffic.com can be exercised, fulfilled, or redeemed at any time through your EinsteinTraffic.com control panel (http://www.einsteintraffic.com/Control-Panel/cplogin.cfm) and will remain available to you up until one year after the date of purchase. EsinteinTraffic.com will attempt to contact you before escheating any unused products or services.


TARGETED TRAFFIC


You agree to hold harmless, EinsteinTraffic.com ("Broadband Enterprises, Inc."), for any pumitive damages, monetary liabilies, excessive bandwidth, server/website workloads, or any other anomoly that might arise from the use of our targeted website traffic. EinsteinTraffic.com will not be held liable for the downtime of your website or server, whether a result of our traffic or not, and shall not refund the order or refurbish traffic that is lost as a result of your downtime. It is the sole responsiblity of the client ("You") to ensure that your website is up and running and can accomadate the technical resources required for any abundance of additional traffic that is sent to your website or server. Should you experience an outage or technical issue with your website or webserver, you can pause your targeted website traffic campaign through our control panel.

Per our agreement, we guarantee to send the number of targeted website visitors that you have purchased, directly to the targeted URL that you have specified for your order. Should we fail to deliver such traffic, as the result from a technical issue for which we are at fault or for any other unforseen circumstances, we agree to fulfill your order and continue to deliver targeted website traffic, up to the number of visitors included in your purchase order, immediately upon recommencement of our services.

EinsteinTraffic.com tracks the number of visitors that are sent to your website through a proprietary platform. For your convenience, you can view the number of visitors that have been sent to your website at any given time directly from our control panel. The number of visitors that are sent to your website may continue to increase even after you have paused your campaign since we can not take back or pause the delivery of your website or landing page where it has already been delivered but not yet viewed. For example, if your website has already been delivered as a pop-under for 100 of our network websites then you will not receive a visit to your website until after the visitor has left or closed out our website, thus revealing your website.


USE OF EINSTEIN TRAFFIC CONTENT


Einstein Traffic strictly prohibits the use, display, leaching, modification, reverse engineering, cloning, saving, or copying of any content, including but not limited to this Terms of Agreement herein, our Privacy Policy, and source code, found, obtained, viewed, or located on any web page, document, or resource (online or offline), under domain EinsteinTraffic.com, either in whole or in part, in any fashion that would constitute a violation of intellectual copyright laws as governed by the U.S. Federal Trademark and Copyright Office. All content, as defined above, is the intellectual property of Einstein Traffic and Einstein Traffic's partners, vendors, affiliates, and any other third parties with which Einstein Traffic conducts business. Under no circumstances shall such prohibitions be breached by you, your heirs, successors, agents, or any other representative figures of yourself, unless otherwise stated in a conditional limited terms of use policy applicable to the products or services provided by Einstein Traffic or Einstein Traffic's partners, vendors, affiliates, and any other third parties with which Einstein Traffic conducts business. You agree that should Einstein Traffic believe, without a reasonable doubt, that you are in breach of these provisions, whether proven or not, that Einstein Traffic reserves the right to immediately terminate your account under the provisions as outlined in the Terms of Termination section of this Terms of Use Agreement and to take a legal course action to the highest extent of the law to recover from any exemplary or punitive damages, including loss of profit.


TRADEMARK NOTICES


All trademarks and logos are the intellectual property of their respective owners. Einstein Traffic claims ownership of the Einstein Traffic logo, Hany Beaver mascot, and Einstein Traffic brand name. Any use of any such trademarks or logos from EinsteinTraffic.com is strictly prohibited without the prior written consent from Einstein Traffic or the respective owner of such trademark or logo. Affiliates whom participate in marketing Einstein Traffic products or services must agree with a limited terms of use policy which restricts the use of such trademarks and logos to only those that are encompassed within the content that is supplied by Einstein Traffic specifically for affiliate marketing. This also holds true for Einstein Traffic franchisees whom are also provided with Einstein Traffic marketing materials designated exclusivey for franchisess
.
EINSTEIN TRAFFIC SITE RESTRICTIONS


You agree not to use EinsteinTraffic.com to transmit, distribute, store or destroy material, including without limitation Einstein Traffic content, in violation of any applicable law or regulation, in a manner that will infringe the copyright, trademark, trade secret or other intellectual property rights of Einstein Traffic or others or violate the privacy, publicity or other personal rights of others, or that is defamatory, obscene, threatening, abusive or hateful in any manner. Einstein Traffic prohibits users of EinsteinTraffic.com from violating or attempting to violate the security of EinsteinTraffic.com, including, without limitation, the following activities: (a) accessing data not intended for such user or logging into a server or account which the user is not authorized to access; (b) attempting to probe, scan or test the vulnerability of a system or network or to breach security or authentication measures without proper authorization; (c) attempting to interfere with service to any user, host or network, including, without limitation, via means of submitting a virus to any Einstein Traffic website, overloading, "flooding", "spamming", "mail bombing" or "crashing"; or (d) forging any TCP/IP packet header or any part of the header information in any e-mail or newsgroup posting. Violations of system or network security may result in civil or criminal liability. Einstein Traffic will investigate occurrences that may involve such violations and may involve, and cooperate with, law enforcement authorities in prosecuting users who are involved in such violations.


ACCOUNT INFORMATION


Upon signing up for any Einstein Traffic product or service, Einstein Traffic collects various information from you, without limitation, that is deemed as necessary to provide the products or services we offer. You agree that Einstein Traffic may disclose to third parties, on an anonymous basis, certain aggregate information contained in your account profile. Einstein Traffic will not sell, lease, or disclose, to any third party, your name, address, e-mail address or telephone number without your prior consent, except to the extent necessary or appropriate to comply with applicable laws or in legal proceedings where such information is relevant. Einstein Traffic reserves the right to offer third party services and products to you based on the preferences that you have identified in your account profile. Such offers may be made by Einstein Traffic, Einstein Traffic's partners, affiliates, vendors, or any other third party business entity in which Einstein Traffic conducts business with.


ACCOUNT SECURITY


Einstein Traffic strives to provide the highest level of security to protect your pertinent data as well as that of our many other customers. In making this effort, we are also very dependent on our customers to maintain the confidentiality of their login credentials. Therefore, we ask that you take responsibility for your account login credentials and agree to be held liable for any activities that take place under your account. You also agree to immediately notify Einstein Traffic of any breach in security or unauthorized use of your account. You further agree that you could be held liable for losses incurred by Einstein Traffic or another party due to someone else using your account login credentials.


NO SPAM POLICY


You agree that for the duration of your use of Einstein Traffic's products or services you shall not use such products or services to transmit, deliver, or otherwise send SPAM or unsolicited bulk Emailing. Einstein Traffic reserves the right to terminate your account or any accounts under which any SPAM or unsolicited bulk Emailing activities have taken place. You agree to pay Einstein Traffic for any actual or liquidated damages that may have resulted from such activities. A fee of one U.S. dollar per Email will be charged for such activities when no cost of actual damages can be assessed. Einstein Traffic reserves the right to release any information required by local law enforcement agencies in cooperation with any judicial investigations evolving from such activities.


POLICY ON THIRD PARTY LEGAL PROCESS


Einstein Traffic fully cooperates with law enforcement officials with any investigations, subpoenas, or other legal processes in regards to any Einstein Traffic related matter. Einstein Traffic will supply any requested materials, information, documents, or other records of interest to any third party requests providing that the request is proven to be related to a legal mater without a reasonable doubt. Einstein Traffic reserves the right to charge an administrative fee of one hundred U.S. dollars for any requests of this nature. Requests which involve extensive research or resources may constitute additional hourly fees.
LIMITATION OF LIABILITY


Einstein Traffic makes no claims, promises or guarantees about the accuracy, completeness, links, timeliness, or adequacy of the contents EinsteinTraffic.com and expressly disclaims liability for errors and omissions in the contents of the EinsteinTraffic.com website. Einstein Traffic will not under any circumstances be liable for any damages whatsoever, including any special, indirect, incidental, consequential or exemplary damages resulting from the use or loss of use of the service, due to any cause, even if Einstein Traffic has been advised of the possibility of such damages. In any event, Einstein Traffic's total liability to you for all damages (Whether based on contract, torte or other theories) will be limited to the amount you actually paid for the service during the month in question. Some states and jurisdictions do not allow the limitation or exclusion of liability for incidental or consequential damages. If you reside in such a state then the above limitation may not apply to you.


DISCLAIMER OF WARRANTY


Einstein Traffic does not warrant that the EinsteinTraffic.com website will operate error-free or that any of the websites hosted on one or more of Einstein Traffic's servers will operate error-free or is free of computer viruses or other harmful mechanisms. Einstein Traffic will not be held liable for the need for servicing, equipment replacement, loss of any data, or any miscellaneous costs associated with such damages as a result of using OribtalWebDesign.com or any other websites which may be hosted on Einstein Traffic servers. All Einstein Traffic content, services, and products are provided on an "As is" basis without any warranties of any kind. Einstein Traffic, to the fullest extent permitted by law, disclaims warranties, whether express or implied, including the warranty of merchantability, fitness for particular purpose and non-infringement.


LINKS TO OTHER SITES


Some of the web pages under the domain EinsteinTraffic.com may have links to other websites. This disclaimer warrants that Einstein Traffic will not be held liable for any damages to your computer, hardware, software, or any other device used to access such links nor will Einstein Traffic be held liable for the content, or credibility of any content, of such links or domains thereof.